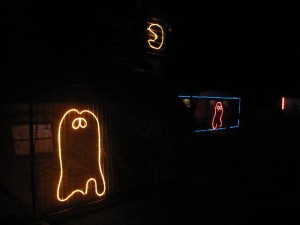 The Stitch Liveshow is a recorded liveset mixed by Stitch. Previous livesets and updates are available via Twitter. Follow me and i'll follow you back. No spam, just mixes.
A new dj mixer and an improved setup with pirate noise speckles. Its the stitch liveshow with a fine selection of Fidget Electro House.
The longest set i've ever done. 2:39:29. It took its toll; after more than an hour of WIN i got a little fatigued and started making facepalm errors. So 40 minutes before closing I noticed and opened a can of energy drink; which had instant impact improving mixing 🙂
I've chopped the set into different parts; easy, chaotic, easy, hardest. Hope you enjoy the tunes and the mixing. Feedback is always appreciated.
Total playing time: 2:39:29
Download
uber fast Download: right click, save as. (sponsored by: vexocide.org)
regular fast Mirror: right click, save as.
Filesize: 365.1 MB, 320 kbit.
Tracklist
Link to the past – Intro theme
Steve Smooth and JJ Flores – Sex Fiend (Hatiras Remix)
Gregori Klosman, Danny Wild – Kixxx (Tristan Garner Lost In Rave Remix)
Calvertron & Tim Healey

– Back 2 The Ghetto (Original Mix)
Jayson Miro & D'Arezzo feat. D. MC – Chop Till You Drop (Original Mix)
Lock N Load – Blow Ya Mind 2010 (Swanky Tunes Mix)

Crookers and Roisin Murphy

– Royal T (Foamo Remix)

Funk D & La Fuente – Irish (Club Edit Edit)
X-Press 2 – London Xpress (Tim Healey Vs Marc Adamo Remix)
Dirty Super Car – Get A Grip (Maximilian Remix)
Nightcrawlers – Push The Feeling On (Player & Remady Mix)
Deadmau5 vs Jelo – The Reward Is Cheese (Johnny Krazy Rework)
Asino and Arma – Land Of Confusion (Rework)

Yeah Yeah Yeahs – Heads Will Roll (A-Trak Remix)

Fatboy Slim feat. Lazy Rich – Weapon Of Choice 2010 (Lazy Rich Remix)
Pluggd – Thrust (Original Mix)
Herve & Dj Sneak feat. Kid Infinity – Droppin Kisses (Herve Club Mix)

Jak-Z  – Get Ya Ass Up (Kelevra Remix)

DJ Kez – Fuck'n'Disco '09 (Kez's Fidget Unrollin' Mix)

DJ Yanny pres. Terraformer – Won`t Forget These Days 2K10 (Disco Freak Up Down Remix)
Pimp Rockers – Keep On Rockin (Starkillers & Austin Leeds Remix)

Pascal & Pearce – Disko Biskit (Original Mix)
DJ Alex Kidd – Feel This Free
Butterbox – I Am Your DJ (Original Mix)
Kieran Brindley & Kalva – Ribeye (Original Mix)
Hirshee – California (Soundpusher Remix)
Electric Soulside – Moulin Rouge (Lazy Rich Mix)

Lorenzo Anzzur – Shift (Original Mix)

Cyberpunkers – Is Alternative (Uppermost Remix)
Calvertron – Doo Doo (Jelo Mix)
Gimbal & Sinan – Halogen (Original Mix)
Monolythe – Siberia (Jelo Remix)
Cold Blank – Raver Booty (Original Mix)
ZXX and Paul Anthony – Follow This Beat (Original Mix)
JELO & Adam K – The Good, The Bad & The Funky (Original Mix)
Defunct! – Welcome Back (Will Bailey & Mikey Hook Remix)
Gigi Barocco – Rowdy Jack (The Deficient Remix)
Hirshee – The Rinse Out (Keemerah Remix)
Kevin Stephens, trickwaters – Fire Emblem Etude for Piano in F# Minor