This year, Eazy BV has created part 1 to 10 of Hit Explosion 2009. This months edition has a brand new selection of 45 hits; for you to download.
Unfortunately, some bad news arrived via via. Eazy (the current producer) stops. This is the last volume (de laatste dus!). The reasons are:
too many people are corrupting the quality of his work (like resampling songs to lower bitrates).
a lot of people have been re-uploading / re-branding the cd's; effectively stealing the fun of creating the cd's.
So make sure you get the Eazy BV Production release!
I hoped for a complete year of Hit Explosion 2009, but that's just not going to work. So, after the 4 releases of the MTV Braun Eurochart 2009, also this compilation has come to an end. I regret this deeply, since Hit Explosion is THE way to get all hits each month instantly.
So for the last time; a list of links where you can download Volume 10.
If you have another location where these albums can be downloaded, let me know… they will be added to the list.
Previous releases can be found here.
Here is some reduced size/quality artwork, the original artwork can be found in the download: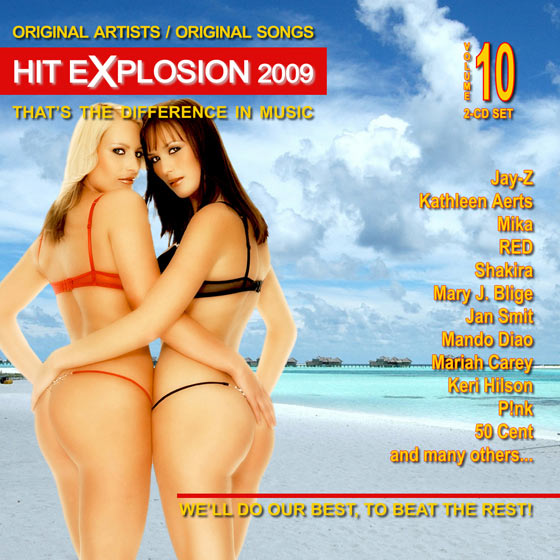 Disc 1:
01. Diggy Dex (feat. Eva de Roovere) – Slaap Lekker (Fantastisch Toch)
02. Rihanna – Te Amo
03. Jay-Z – D.O.A. (Death Of Auto-tune)
04. Damaru en Jan Smit – Mi Rowsu (Tuintje In Mijn Hart)
05. BeyoncÈ (feat. Kanye West) – Ego (Remix) – Exclusive 4 this compilation
06. James Morrison – Nothing Ever Hurt Like You
07. Mariah Carey – Obsessed
08. Jada – American Cowboy (Remix) – Exclusive 4 this compilation
09. Lenka – Trouble Is A Friend
10. Ferry Corsten (feat. Maria Nayler) – We Belong
11. Richgirl – He Ain't Wit Me Now (Tho)
12. Wale (feat. Lady GaGa) – Chillin'
13. Starpilots – In The Heat Of The Night
14. Gregor Salto & Kamoa – Lambada 3000
15. Mika – We Are Golden
16. P!nk – Funhouse
17. The Al-American Rejects – I Wanna…
18. Pitbull – Hotel Room Service
19. Shakira – She Wolf
20. The Killers – A Dustyland Fairytale
21. Postman – Kills Me
22. Colbie Caillat – Fallin' For You
Disc 2:
01. DJ Antoine – Underneath
02. Coolio vs. Beat Nouveau (feat. Storm Lee) – Lady
03. Kathleen Aerts & Soweto Gospel Choir – Zumba Yade
04. Kasabian – Fire
05. 50 Cent – OK, You're Right
06. Keri Hilson – Slow Dance
07. Caro Emerald – Back It Up
08. Supafly Inc. – She's Part Of History
09. David Cook – Permanent
10. Jadyn Maria (feat. Flo-Rida) – Good Girls Like Bad Boys
11. Arctic Monkeys – Crying Lighting
12. Koot! – Sometimes
13. RED – Conga
14. Mary J. Blige (feat. Drake) – The One
15. John Callaghan (feat. Sarah Howells) – Find Yourself
16. Melanie Fiona – Give It To Me Right
17. Mando Diao – Gloria
18. Kid Cudi (feat. Kanye West & Common) – Make Her Say
19. Sean Paul – So Fine
20. Mandy Moore – I Could Break Your Heart Any Day Of The Week
21. G Lontra Rockz (feat. Chelc D) – Give (Theme from Extrema Outdoor '09)
22. David May – Superstar
23. Jim – Dat Ben Jij
Total Playing Time…: 159:08
Total Size………..: 376 MB
Disc 1
Diggy Dex (feat. Eva de Roovere) – Slaap Lekker (Fantastisch Toch)
Rihanna – Te Amo
Jay-Z – D.O.A. (Death Of Auto-tune)
Damaru en Jan Smit – Mi Rowsu (Tuintje In Mijn Hart)
Beyoncé (feat. Kanye West) – Ego (Remix) – Exclusive 4 this compilation
James Morrison – Nothing Ever Hurt Like You
Mariah Carey – Obsessed
Jada – American Cowboy (Remix) – Exclusive 4 this compilation
Lenka – Trouble Is A Friend
Ferry Corsten (feat. Maria Nayler) – We Belong
Richgirl – He Ain't Wit Me Now (Tho)
Wale (feat. Lady GaGa) – Chillin'
Starpilots – In The Heat Of The Night
Gregor Salto & Kamoa – Lambada 3000
Mika – We Are Golden
P!nk – Funhouse
The Al-American Rejects – I Wanna…
Pitbull – Hotel Room Service
Shakira – She Wolf
The Killers – A Dustyland Fairytale
Postman – Kills Me
Colbie Caillat – Fallin' For You
Disc 2
DJ Antoine – Underneath
Coolio vs. Beat Nouveau (feat. Storm Lee) – Lady
Kathleen Aerts & Soweto Gospel Choir – Zumba Yade
Kasabian – Fire
50 Cent – OK, You're Right
Keri Hilson – Slow Dance
Caro Emerald – Back It Up
Supafly Inc. – She's Part Of History
David Cook – Permanent
Jadyn Maria (feat. Flo-Rida) – Good Girls Like Bad Boys
Arctic Monkeys – Crying Lighting
Koot! – Sometimes
RED – Conga
Mary J. Blige (feat. Drake) – The One
John Callaghan (feat. Sarah Howells) – Find Yourself
Melanie Fiona – Give It To Me Right
Mando Diao – Gloria
Kid Cudi (feat. Kanye West & Common) – Make Her Say
Sean Paul – So Fine
Mandy Moore – I Could Break Your Heart Any Day Of The Week
G Lontra Rockz (feat. Chelc D) – Give (Theme from Extrema Outdoor '09)
David May – Superstar
Jim – Dat Ben Jij
Total Playing Time…: 159:08 /Â Total Size………..: 376 MB
© 2009 Eazy Productions BV