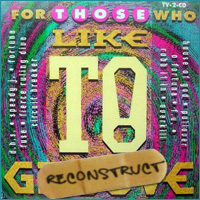 My all time favorite mix was broadcasted on For Those Who Like To Groove in 1992. "For Those" was the first house show on Dutch public radio. It has always remained its notorious status due to great music and livesets. Eugenios mix hypnotized me. No matter how hard I tried to stay focussed, it took me away and I was paralyzed once again.
I've probably listened to this tape over a thousand times. Even then I still couldn't remember the set in order; only track by track. (remember one track, and then you remember the next). But my tapes where degrading… I accidentally hit record on a certain part (didn't remove the clips) and it I started searching on the Internet for "For Those".
There are a few decent rips. Among these was a set accredited to Menno which was what I was looking for. A partial tracklist was shipped with the rip, but incomplete and incorrect. At the same time I also started collecting old school cd's. Mostly compilations like serious beats, which where pretty hard to get in 2004. One day I found a cd called Mix the house, which contained the same tracks and same mixing style as the mix accredited to Menno. It was clear that was a mistake as Eugenio appeared to be the king of beats. He was crowned Dutch mixing champion in 1992; here is the inlay of Mix the House: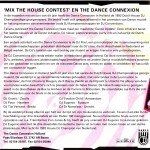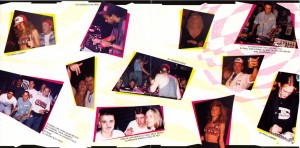 Inlay of Mix The House with pics of Eugenio and others (click to enlarge)
Reconstructing
As said, the online tapes where decent rips, but still lacked in quality. So I decided to reconstruct this one… opening pandora's box.
All over the net I found For Those fans and started posting requests for tracklists. Slowly but steadily we identified everything; it took months. Next step was to find the actual tracks; of which Teknoises – P Kiop / Trashman – Cosmojunk where most difficult to get. I've spent countless hours on Soulseek, discogs and forums, gathering mail addy's from artists and people willing to rip tracks from their cd's. In the end it payed off: I got some tracks via mail (parsimony – the evidence by the original artist) and others where found on Soulseek (with weeks of patience).
After a few days in Acid Pro I got it exactly right. Maximizing the volume with L2 and it was done: Eugenio's mix of 5 september 1992 was reconstructed; a near-perfect replica. The mixdown was published on dancelog accompanied with a cool story (in Dutch). Positive and constructive comments followed including someone who gave the interview with Eugenio (i lost it, sorry). Afterwards it was also placed on the list on forthosewholiketogroove.nl website. Many wanted more!!
Now that I've got my own blog and I'm clearing out my archive; guess what I found… but before we get to that I want to share the plans for a new reconstruction.
Plans for a new reconstruction?
Before we get to the download; there is some about For Those. First of all, in 2009 dotf.nl presented a new show with lots of great house tracks and an interview with the shows original host Robin. It was a pleasure to listen and I bet there will be more! (the download link is purposely obscured by dotf; you have to google with the hints they supply here…)
Next; over time, between 2005 and 2009, it has gotten easier to find tracks. Youtube has a lot and most tracklists are complete on the For Those Who Like To Groove forum. Hopefully this will make it easier to find tracks, the effort that went into the first reconstruction was absolutely insane.
So, what about the new reconstruction? Yes! That's something I want to do in 2010, but i'm not sure what mix I should start with. Next four mixes mean the most to me since in those days I started with House:
Bart Thimbles' set from 12 september 1992 [difficult, hard to find tracks]
Antoines set from 19 september 1992 [fair]
Rob Jansens set from 26 september 1992 [fair]
Robin Albers' set from 3 oktober 1992 (last set of the show) [alright]
Other ideas are also welcome, but most of all; tracks are always welcome. When i'll start with one of these it will be published here and on the "For Those" forum. Just spam comments to contribute 🙂
Download
uber fast Download: right click, save as. (sponsored by vexocide.org)
regular fast Mirror: right click, save as.
Time: 44.15 minutes in 106 MB @ 320 kbps (from various sources).
Tracklist
Human Resource – Sick [sample]
Gat Decor – Passion
MKM – Little Stars
Studio X – Los Kings Del Mambo
Ramirez – Hablando
Trashman – Cosmojunk
Wishdokta – Banana Sausage
Digital domain – Ill Be Released
Dj Seduction – Hardcore Heaven (The Reincarnation)
Felix – Don't You Want My Love (Red Jerry's Holiday Mix)
Meng Syndicate – Sonar System (Aw Aw) [only handclap sample, looped]
Parsimony – Evidence
Total Groove – Bad Jazz
Teknoises – P.Kiop
J 'n J – The Ballet
Robert Armani – Watch It
Tellurians – Navigator (Lightvessel remix)
Crowd Control – Tranzformer(frankfurt remix)
N.U.K.E. – Nana (Suicide Remix)
DJ Seduction – Higher Now
Edge of motion – Set up 707
Interactive – The Devil (Rami's Modi Clash)
The Prodigy – Everybody Is In The Place (Dancehall Edit)
E.B.Y. – Kinky Love Disco
Worldparty II – Forget it
DJ Hell – My Definition of House Music (Resistance D Remix)
Liquid – Liquid is Liquid