To the surprise of many, Eazy decided to continue and finish this year of Hit Explosions! More information can be found on the amazing news website. Also go there if you want to thank him for this compilation.
Getting this months supply of hits can be done through:
Previous releases can be found here.
Almost all previous Braun MTV Eurocharts are located on nodancelimit. The post also includes some mixes. If you're not sure what to get; get those!
Here is some reduced size/quality artwork, the original artwork can be found in the download: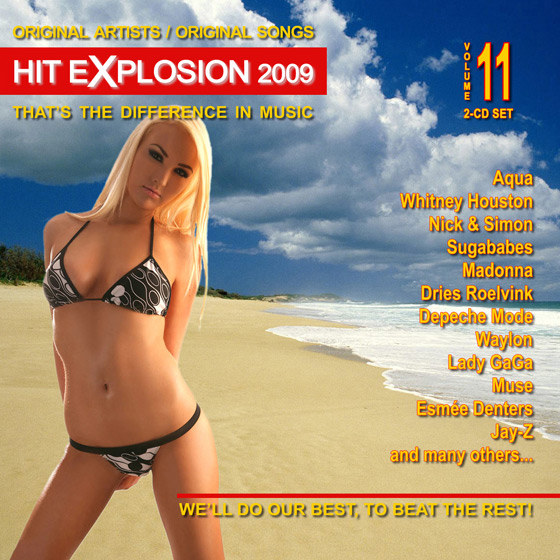 Disc 1
Depeche Mode – Perfect
Ashley Tisdale – Overrated
Miley Cyrus – Party In The U.S.A.
Aqua – Back To The 80's
VanVelzen – Other Side Of Me
John Fogerty (feat. Bruce Springsteen) – When Will I Be Loved
Anny – No Regrets
Lilly Allen – 22
Milk Inc. – Blackout
Backstreet Boys – Straight Through My Heart (Soldier Down)
Lady GaGa – The Fame (Remix) – Exclusive 4 this compilation
BeyoncÈ – Broken-Hearted Girl
Dio & The Madd – Baby
Nick & Simon – Lippen Op De Mijne
P!nk – Bad Influence
Whitney Houston – Million Dollar Bill
Madonna – Celebration
EsmÈe Denters (feat. Justin Timberlake) – Casanova
Pearl Jam – The Fixer
Robbie Williams – Bodies
Anouk – Three Days In A Row
Mark Knopfler – Cleaning My Gun
Disc 2
Captcha – Gotta Let You Go
KISS – Modern Day Delilah
John Marks Project (feat. RenÈ Froger) – Sledgehammer
Sugababes – Get Sexy
Bob Sinclair (feat. Shabba Ranks) – Love You No More (Remix) – Exclusive 4 this compilation
The Prodigy – Take Me To The Hospital
Kristina DeBarge – Sabotage
Jay-Z (feat. Rihanna and Kanye West) – Run This Town
Dries Roelvink – Geen Crisis Waar Dries Is
Klaas meets Haddaway – What Is Love 2K9 (Remix) – Exclusive 4 this compilation
Kyteman – Sorry! (Live at Tivoli, Utrecht)
Inna – Hot
Muse – Uprising
Waylon – Wicked Ways
Demi Lovato – Here We Go Again
Ilse DeLange – We're Alright
Moke – Switch
David Guetta (feat. Akon) – Sexy Bitch
Nelly Furtado – Manos Al Aire
Colbie Caillat – Never Let You Go
Little Boots – Remedy
Right Said Fred – Sexy Bum
Hillary Duff – Any Other Day
Total Playing Time…: 159:12 / Total Size………..: 376 MB
© 2009 Eazy Productions BV