I heard you like spare-time so we put some spare-time in your spare-time so you can relax while you relax. It doesn't work that way.
Previous week I wrote about 101010, the hacker new-years party in The Hague. I traveled about 500 kilometers in a single day, which wasn't enough. This weekend I traveled about 750 kilometers, in 3 days. If you also add trains, its 1000. This is what happened.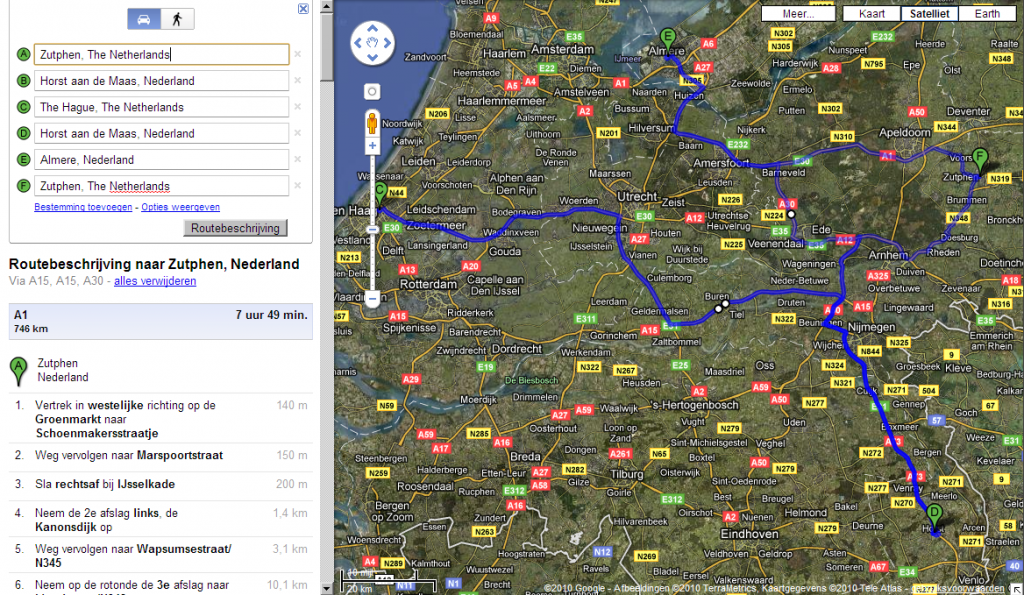 Friday 15 oct 2010
I'm not counting the train i took from Zutphen to Gouda just to have a one-hour meeting and 1 hour of mediawiki fun. Back to Zutphen and there I packed my stuff and went straight to Masterlan 6. This event in Horst-aan-de-Maas is a good lanparty with social people.

Together with JeePee (or GP?) we played Super Mario Bros 3 on the NES. Instead of taking the short-whistle-route we played through almost every level. We've seen all maps and now its even more clear why this game is so awesome. Even if you've played it for years and years there are still new things to discover and new enemies to defeat. I want to continue with the retro project.
With some guitar hero and some light-coding on my network scanner i called it a day. Oh wait; maybe some poker. 5 euro buy-in. Then all-in at the first round against people i don't know. Never doing any-stakes poker again.
I expected to have a horrible night sleep in the noisy Merthal, but it turned out to be one of the better nights of sleep in the past few months. Exactly the right temperature and with earplugs there was no noise; i wished i could have slept there longer. But it was time for the next day.
Saturday 16 oct 2010

Saturday started with a 2-hour trip to The Hague, again to the revspace. This time to discuss things for HackSquare for CCC next year. We all talked about what we where doing and have a mindmap-brainstorm on next years theme. Oasis. We discussed all kinds of options including space, memes, holland and water; but it ended in Oasis. And thats what it is. Some of the Hx2 people already updated it check out our wiki (and with "our" i mean COMMUNISM). I'm excited for the things we can do for retro;
Ooh, and there might be a big surprise planned for next years CCC which is definitely vintage. Its one of those things that are SO awesome; its "Insanely Great". At 6 it was time to get back to Horst. I arrived at about 8.30 and it was time to relax and just see what happened in the mean time.
After some guitar hero we played Anti-Monopoly. This game didn't really do it for us. As a competitor we found we didn't earn enough. 3 houses on the most expensive real-estate reels in 100 dollars?  Competitors had an even tougher time, one of them only made it past one full round. The rest of the game he was stuck in prison. With 6 players i cannot recommend this game; but well it was still fun to play it once. In other news; the language-usage-statistics peaked on the word "Henk". An in-joke on the Mastermovie of Saving Private Henk.
Sunday 17 okt 2010
Then another great round of sleep. I slept from 3  till 12am and it was all good. Time to get up and go to Almere. A family trip. It was good.
And that's it. 🙂 The second, (and last?), insanity weekend.
Conclusion
Its too much; doing one thing or something sequentially is better. I felt like i had to be at two places at the same time. This is not up to par with slacking. Another lesson learned. But i know someone who'd rather would be at two places at the same time. And i like his mustache.