TL;DR: Download RAGE.wav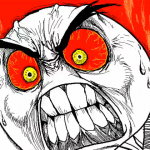 Long story
Last week i was experimenting with some audio effects. Amazing how the volume can be cranked up to reach absolute insanity without clipping. The rage.wav file is in fact recorded whispering 🙂 Then i added the most ridiculous audio effects to make it sound … ridiculous.
The effect chain consists of the following ingredients:
Multiband Dynamics (no background noise, more highs)
Warmth
Vocoder (modulator effect)
Compression
Saturator (Hard Curve FTW)
Limiter (to "avoid" clipping)
I uploaded the original for remixing purposes. Can you increase the volume and impact even more?