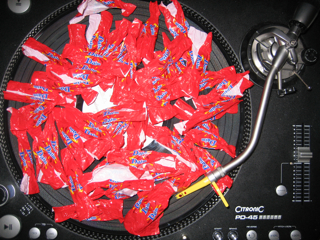 The Stitch Liveshow is a 'weekly' show playing a different musical genre each week. Follow the Stitch Liveshow on Twitter.
Today I selected the best trance tunes from Rave Mission; an overrated German dance compilation. Out of all tracks only 10% was useable, the rest was too simple, out-of-bound or just plain shitty. The same label of Rave Mission also creates "Trance Meister"; a name that makes me giggle. But I've gotta be fair; there are some really good songs here and for the time (1994-2001) it probably was alright.
It would have helped eating lesser candy before the set; during the first half hour I was too eager to start new tracks. If Daim would by any more delicious, it would probably be the new popular cause of death. The picture/album art (above) shows the result of 30 minutes of contact between a human and Daim. Death by Daim anyone?
On the upside; I figured out that trance is fun to play and even can put the dj in a trance. Great stuff. Just what the world needs; another trance dj :p
Personal favorite: Ruff Drivers – Waiting for the Sun (remix)
Total playing time: 1:53:20
Download
Sponsor vexocide.org wants more traffic; please help it, and share this set.
uber fast Download: right click, save as. (sponsored by: vexocide.org)
uber fast Download: right click, save as. (sponsored by: serveert.me.uk)
regular fast Mirror: right click, save as.
Filesize: 272,3 MB, 320 kbit.
Tracklist
Airscape – Cruising (Exposure Mix)
Soulslider – Give Me All You Got
Love and Fate – Love and Fate (Part 2)
Orinoko – Mama Konda (Original Mix)
Frank Brook – Queens
U.K.W. – Electric Love (Seikos Remix)
Full House – On A Housetrip
Antra – I Want Ur Love (DJ Buzz Mix)
Arrakis – Aira Force (Main Mix)
Komakino – Man On Mars (Talla 2XLC Remix)
Plastic Angel – Daylight
Das Licht – Traumwelten
Arrow – Back In The House (Kay Tracid Mix)
Third Man – Planet Hunter
Rick Le Roy – Red Moon (Metempsicosi Mix)
The Mystery – Mystery (Above & Beyond Mix)
Ruff Drivers – Waiting for the Sun (remix)
Plastic Angel – Mysterious Mind
The Ape – Confusion
Paragliders – Share of Bitterness
Concentration One – Deliverance
Dj Scot Project – U (V-Mix)
Raul de Chile – Party (de Chile Mix)
Skylab – Timewalker
Dj Yanny & The Paragod – Initialize (Framic Remix)
The Gate – Transfer (Club Mix)
X-Cabs – Neuro
F-Starr – Energy