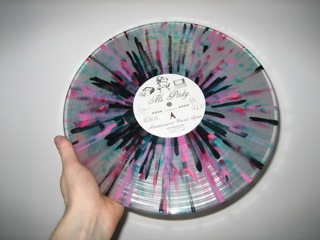 Follow the stitch liveshows on twitter: http://twitter.com/stitchliveshow
Git-git-git git-busy. Haha most of you "youngsters" might never heard before, but Hip House was a combination between house and hiphop. It topped the charts between 1988 and 1991 with various hits made by Tyree Cooper and Fast Eddy.
For this mix i selected some rare/great hip house tracks from between 1989 and 1991, which even I never heard before. As you know, my livemixes are not practiced before, so i was amazed at how great some tunes are.
Once it starts rolling its unstoppable. Just give it a try, you won't be disappointed; it's groovy as hell. I'm still in a rush! 🙂
Also my new Ms Pinky vinyls shipped in, and they mix more solid than finalscratch2. Check out the picture for a "splatter matter" disc; a work of art.
Total playing time: 1:01:31
Download
uber fast Download: right click, save as. (sponsored by: vexocide.org)
regular fast Mirror: right click, save as.
Filesize: 147.9 MB, 320 kbit.
Tracklist
The Renegades – It's Gotta B Funky (It's A Rap Thing Mixx) [Underground Records UN 144]
Freestyle Orchestra feat. Dany – Keep On Pumpin It Up (radio mix) [SBK Records V-19718]
J.M.Silk – All In Vain (london mix) [Jack Trax Records JTX 16]
D Mob feat. LRS – It Is Time To Get Funky (casualty mix) [FFrr Records 886 627-1]
Liz Torres – If U Keep It Up (If You Drum It Up Mix) [Jive Records 1354-JD-1]
Maximum Strength – Rock This Party(Hardcore Mix) [IHR IHR-008]
2 Brothers On The 4th Floor & Da Smooth Baron MC – 4th Floor Theme [ZYX Records ZYX 6455]
Mixmasters feat. MC Action – In The Mix (fast eddie mix) [DJ International Records DJ 900]
Bomb – Can-U-Dig-It! (anything goes by bad boy bill) [Street Life Records SL 707]
Fast Eddie – Hip House 89 "Remix" (julian "jumpin" perez mix) [Dj International Records DJ 982]
Powerful Juvenile – It's Like That (Bad Boy Bill Mix) [Sinister Records SR102 B]
Kool Rock Steady – You Ain't Nobody (Instrumental Mix) [DJ International Records DJ 992]
Diamond D – Shake Le' Bootee' (The Clubhouse Version) [Crystalball Records CR-2162]
Julian "Jumpin" Perez – Let's Work (radio) [Dj International Records DJ 995]
Mr. Lee – Get Busy (chicago mix) [Jive Records 1274-1-JD]
The Renegades – Tag (M.D.'s Vocal House Mix) [Underground Records UN 148]
Mr Lee – House This House (Vocal) [Trax Records]
M.C. Krash – Addicted To Bass(smoove Mix) [1989 Real House Records]
Culture Beat – I Like You (smokin mix) [Epic Records 49 79600]
The Bass Boys – Lost In The Bass (Bad Boy Bill '89' Mix) [Hot Jam Records H-J-101]
Double Trouble & The Rebel MC – Just Keep Rockin' (hip house remix) [Desire Records 889971-1]
Bass Boyz – Music Takes You Away (Joey's Jam Mix) [Hot Jam Records HJR-102]
M. Doc – It's Percussion (house Mix) [Jack Trax Records 12 JTX 13]
Record Review – Hi Tek 3 – Come On And Dance [Records Review RR 8]
— BONUS BEATS BONUS GALORE, its short, its fast, its good practice:
Unknown DJ – Bonus Beats [Techno Kut Records TK 1207]
The Bass Boys – Lost In The Bass (bonus beats) [Hot Jam Records H-J-101]
Subject 13 – The Promise (Bonus Beats) [Vinyl Solution STORM 29]
DSK – Kiss Me All Over (Bonus Beats) [Jackpot Records HAL 12184]
Fargetta – The Music Is Movin' (Bonus Beat) [Marton & Media Records MM 002]
Trash Funk – Drum Down The House (Bonus Back Beats) [Chrysalis Records 4V9 43257]