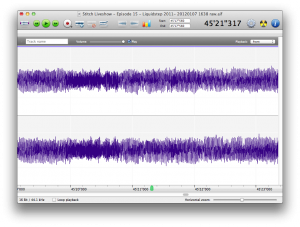 Start the new year fresh with a selection of the best "liquidstep" (dubstep) from 2011 mixed harmoniously. Even though my gear didn't really comply to my bidding, I managed to cram 35 songs in 70 minutes. Using digital vinyl mixing, this is a nice speed, especially when you've never mixed these tracks before.
The most difficult thing on mixing liquidstep are the overflowing melodies: mixing them in key requires some software tricks. I prefer avoiding trickery, in this case its the most feasible alternative though. The picture on the right shows recorded audio.
Later this year it's time to change gear. Vinyl mixing has been great. I wanted to learn how DJ's mixed together their songs back in the days. Using turntables and a mixer teaches you the basics the hard way: no sync button, having to do with the various discs and mastering on them.
I want to start focussing on digital mixing: i expect a boost in creativity and using things such as queue points, syncing and more use of filters and effects. Vinyl mixing still will be important to me, for example when playing early house tracks. To me, digital mixing gives a new dimension.
Enjoy this 70-minutes digital-vinyl-mixed liveshow!
Download
über-fast Download: right click, save as. (sponsored by: vexocide.org)
regular fast Mirror: right click, save as.
Filesize: 162.6 MB, 320 kbit.
Tracklist
"Gotta Catch 'Em All!"
Blackmill – Oh So Natural Blue
Tronix – Blue Sphere
Nutronic – Run Away (xKore Remix)
Xilent – Choose Me (Dubstep Mix)
Deadmau5 feat. Rob Swire – Ghosts'N'Stuff (Nero Remix)
Kito & Reija Lee – Run For Cover
Subscape – Apple Candy
Camo & Krooked – All Fall Down (ft. Shaz Sparks)
Dev – Dancing In The Dark (Proper Villains Remix)
Loz Conteras – Love Life
DKS – Feel 4 U (AFK remix)
Gemini – Rise & Fall
Crystal Fighters – Follow (Roksonix Remix)
Fenech-Soler – Stop and Stare (Gemini Remix)
Oh Land – Sun Of A Gun (Jacob Plant Remix)
The Beatles – All The Lonely People (Nost3 dub step remix)
Flux Pavilion – Haunt You
Benny Benassi Feat. Gary Go – Cinema (Skrillex Remix)
Caesars – Jerk It Out (Sawgood Remix)
Don Diablo – Animale (Feat. Dragonette) (Datsik Dubstep Remix)
Rihanna – We Found Love ft. Calvin Harris (CTL / Glitchdick Remix)
Nero – Guilt
Dodge & Fuski – Python
Gemini – Vision
Subscape – Square Albert
Playma – We Can Live Forever
Professor Green, High Rankin – Jungle (High Ranking Remix)
DirtyLoud – Rock It Roll It (DirtyLoud Remix)
KillaGraham – Drop It
Chromeo – Night by Night (NEUS Dubstep Remix)
MINDTRANSIT – Nobody But You (feat Syntronics, Strange Rollers Remix)
Katherine E – I'm Alright (Butch Clancy Remix)
Calvin Harris – Flashback (KillaGraham Remix)
Skrillex – Ruffneck (FULL Flex)
Ephixia – Lost Woods Dubstep Remix
Feed Me vs. Knife Party vs. Skrillex – My Ping Reptile Party (Maluu's Slice'n'Diced Mashup) (Stitch long-name-but-intro-only-chop version)