This years Hit eXplosion is complete with the release of volume twelve. As a bonus, Eazy also released volume thirteen! So that's four cd's this time. See also the other post for download of the other CD.
Getting this months supply of hits can be done through:
Previous releases can be found here.
Here is the reduced size/quality artwork, the original artwork can be found in the download: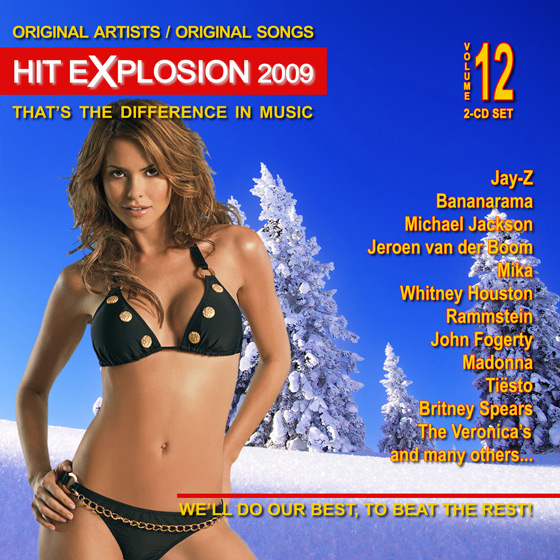 Disc 1
Natalie Imbruglia – Twenty
Jenny Lane – Say Say Say
Jay-Z (feat. Alicia Keys) – Empire State Of Mind
Madonna (feat. Lil Wayne) – Revolver
Beyonce – Radio
Michael Buble – Haven't Met You Yet
Britney Spears – 3
Colby O'Donis (feat. Paul Wall) – She Wanna Go
Michael Jackson – This Is It
Mika – Rain
Guus Meeuwis – Ik Ook Van Jou
Stereo – Still Here
Eva Simmons – Silly Boy
Rammstein – Pussy
Willie Nelson and Rob Thomas – Maria (Shut Up And Kiss Me)
Esmee Denters – Admit It
Janet Jackson – Make Me
Valerius – Whenever
Acda en De Munnik – Ik Blijf Jouw Leven Lang Bij Mij
Bon Jovi – We Weren't Born To Follow
Bløf – De Storm (Geef Niet Op)
Disc 2
4 Strings – Take Me Away (Remix) – Exclusive 4 this compilation
The Veronicas – 4ever
John Fogerty – I Don't Care (Just As Long As You Love Me)
MSTRKRFT (feat. John Legend) – Heartbreaker
Ashley Tisdale –  Masquerade
Jeroen van der Boom – Dat Weet Je
Monroe – The Real Thing
Banarama – Love Comes
September – Because I Love You
Daniel Merriweather – Impossible
Calvin Harris – Get Ready For The Weekend
Gordon – Niemand Lacht Zoals Jij
Gerard Joling – Engel Van Mijn Hart
Tiësto (feat. C.C. Sheffield) – Escape Me
Frans Bauer – Geen Woorden
Nickelback – Never Gonna Be Alone
Laura Jansen – Single Girls
Foo Fighters – Wheels
Whitney Houston – I Look To You
Pixie Lott – Boys And Girls
Alicia Keys – Doesn't Mean Anything
Prince – Dance 4 Me (Icon Remix) – Exclusive 4 this compilation
Total Playing Time…: 159:27 / Total Size………..: 377 MB
© 2009 Eazy Productions BV