This years Hit eXplosion is complete with the release of volume twelve. As a bonus, Eazy also released volume thirteen! So that's four cd's this time. See also the other post for download of the other CD. I See volume thirteen as an extension of volume 12. The CD's used to be pressed every month, but this time we get one extra for free 🙂
I guess this finishes the series of Hit eXplosions made by Eazy. Thanks and take care!
Getting this months supply of hits can be done through:
Previous releases can be found here.
Here is the reduced size/quality artwork, the original artwork can be found in the download: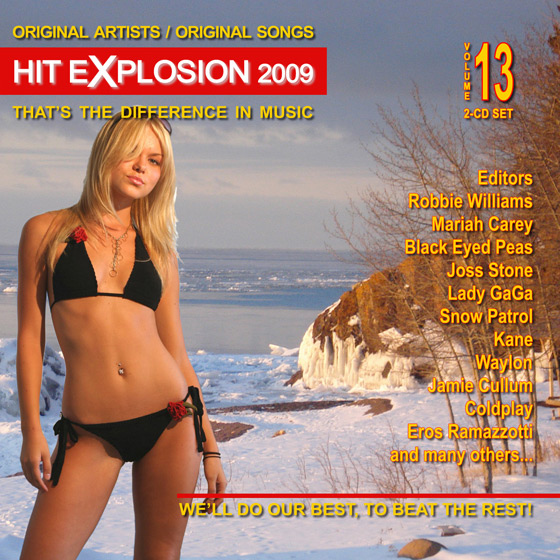 Disc 1
Kane – No Surrender
Within Temptation (feat. Chris Jones) – Utopia
Beyonce – Control
Milow – One Of It
Robbie Williams – You Know Me
Coldplay – Strawberry Swing
Jamie Cullum – I'm All Over It
Susan Boyle – I Dreamed A Dream
Tokio Hotel – Automatic
Lisa Lois – No Good For Me
Kesha – Tik Tok
Norah Jones – Chasing Pirates
Lady GaGa – Bad Romance
Pet Shop Boys – Beautiful People
Mika – Good Gone Girl
Leona Lewis – Happy
Waylon – Hey
Spandau Ballet – Once More
Nick & Simon – Het Masker
Snow Patrol – Just Say Yes
Anouk – Woman
Mayer Hawthorne – Just Ain't Gonna Work Out
Disc 2
Future Presidents – The World Keeps Changing
Whitney Houston – I Didn't Know My Own Strength
Di-Rect – Times Are Changing
Mariah Carey – I Want To Know What Love Is
Jason Mraz – Butterfly
K3 – MaMaSÈ!
Taio Cruz – Break Your Heart
Antony and The Johnsons – Crazy In Love
La Roux – I'm Not Your Toy
Eros Ramazzotti – Controvento
Cobra Starship (feat. Leighton Meester) – Good Girls Go Bad
Dizzie Rascal – Holiday
Editors – Papillon (Tiësto Remix)
Armin van Buuren (feat. VanVelzen) – Broken Tonight
Paloma Faith – Stone Cold Sober
The Black Eyed Peas – Meet Me Halfway
Miss Montreal – Addicted To Crying
Joss Stone – Free Me
Kim-Lian & Linda Bengtzing – Not That Kinda Girl
Abby – Boys (Remix) – Exclusive 4 this compilation
Edward Maya and Vika Jigulina – Stereo Love
Right Said Fred – Sexy Bum
Hilaty Duff – Any Other Day
Total Playing Time…: 159:27 / Total Size………..: 377 MB
© 2009 Eazy Productions BV