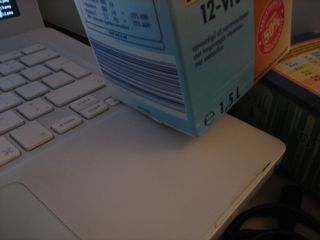 Follow the stitch liveshows on twitter: http://twitter.com/stitchliveshow
Finding good tracks from the Dutch Dance Top 30 was a difficult; from the bucket of 700 tracks I found about 150 worthwhile… my personal selection goes towards 40, but there are some masterpieces which aren't my style. Other than that, it's the first time i've heard any dance from 2009 and it took a while getting used to. After the mix I still found some other good tracks, of which "Call Me Al – Dj Rebel's Radio Mix" is a nice one.
Again I produced this live mix without knowing any song. Instead of the usual 20:00 it was recorded at 15:00, had to create some high-tech VHS with a few friends. While driving to the friend to create the VHS, we reviewed this mix. We came up with a new term: "Girl-To-Old-Man-Mix". You'll find out what that means when Deadmau5 is crossfaded to Gregor Salto. Also experienced just after minimal songs climax, its the same old man. Thanks for reading this 🙂
Top trends from 2009: white noise, more minimal with bleeps, long tracknames. Album art this time is the "iTunes Auto-Database-Update Tool (TM), Updates the iTunes database while you do something relevant."
Total playing time: 1:25:12
Download
uber fast Download: right click, save as. (sponsored by: vexocide.org)
regular fast Mirror: right click, save as.
Filesize: 195.1 MB, 320 kbit.
Tracklist
Fatboy Slim – Right Here Right Now (Mixing Marc Remix)
Michiel Cleis – La Mezcla (Luciano Remix)
Rio – After the Love (Balearic Flava Remix)
Ian Carey Project – Get Shaky (Stonebridge Mix)
Kurd Maverick and Rudee – Ring Ring Ring (Extended Mix)
Laidback Luke and Gregor Salto ft Mavis Acquah – Step By Step (Abel Ramos From Haarlem With Love Mix)
Annagrace – Love Keebs Calling (Basto Impression)
Calvin Harris – I'm Not Alone (Radio Edit) ((eeq melody clashing here))
Deadmou5 and Kaskade – I Remember (Instrumental Mix) ((old man mixing here))
Gregor Salto and Kaoma – Lambada 3000 (Olav Basoski Mix)
Twin Pack – Muchos Maracas (Original Mix)
Laidback Luke and Gregor Salto ft Mavis Ackuah – Shine Your Light (Per Qx Remix)
Marco V – Simulated 2010 (Original Mix)
Afrojack – Polkadots (Original Mix)
Laurent Wolf – Walk The Line (Remix)(Club Version)
Nils van Zandt vs Sergio Silvano ft Chaquilo MC – The Beat Don't Stop (Mark Laurenz Freak Mix)
Bob Sinclair ft Sugarhill Gang – Lala Song (Donovan Dominator Remix)
Bob Sinclair ft Sugarhill Gang – Lala Song (Guy  Schreinder Remix)
Dance 2 Trance – Power Of American Natives (Jam El Mar 2009 Mix)
D Block and S Te Fan – The Nature Of Our Mind (Qlimax Anthem 2009)
Headhunterz – Scrap Attack (Defqon.1 2009 Anthem) (Original Mix)
Reunited – Sun Is Shining (Out Of Sight Remix)