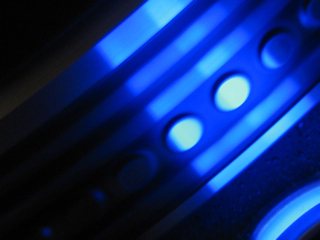 The Stitch Liveshow is a 'weekly' show playing a different musical genre each week. Follow the Stitch Liveshow on Twitter.
For those of you who don't know: these songs stem from 1983 to 1988 and was one of the larger sounds in discos in western europe and the US.
From "The Best Of Italo Disco" I selected some melodious tunes and mixed them together. During selection all songs started to sound the same, so i tried the <120 bpm section since it has more variety. Those radio/short edits also don't work 😉 I'll try some new mixing styles in the next weeks.
As a true compilation series, I was missing a few insanely great tunes. A lot of them are on this "the best of" though… still looking for a remix of Paul Sharada – Florida (move your feet). On discogs the original records do very well; about 15 euro a piece and about 50 people are looking for them.
Some friends told me the Italo scene is still lively, with new cd's being released until this day. Since i'm missing a lot of classics, i guess another Italo mix is in the pipeline.
Personal favorite: among many Joe – Yellow Wild Boy, Scotch – Pictures and Miko Mission – How Old A You.
Total playing time: 1:40:51
Download
uber fast Download: right click, save as. (sponsored by: vexocide.org)
uber fast Download: right click, save as. (sponsored by: serveert.me.uk)
regular fast Mirror: right click, save as.
Filesize: 231,3 MB, 320 kbit.
Tracklist
Funny Twins – You And Me
Joe Yellow – Love At First
Brian Ice – Talking To The Night
Scotch – Pictures
Eddy Huntington – USSR
Miko Mission – How Old A You
Brian Martin – Sex Tonight
Dance Argentina – Let's All
Valerie Dore – The Night
Silver Pozzoli – Around My Dream
Mike Rogers – Just A Story
Scotch – Disco Band
Solid Strangers – My Delight
Digital Game – Please Don't Go
Spagna – Call Me
Joe Yellow – I'm Your Lover
G J Lunghi – Acapulco Nights
Hivon – To Be Together
Albert One – For You Love
Albert One – Secrets
Hot Cold – I Can Hear Your Voice
P4F – Medley
Silver Rozzoli – Pretty Baby
Duke Lake – Dance Tonight
Den Harrow – Don't Break My Heart
Hipnosis – Droid
Koto – Jabdah
Mr Ziwago – Little Russian
Paul Sharada – Florida
Grant Miller – Doctor For My Hearth
P4F – Diamond
Roger Meno – I Find The Way
Rudy & Co – Mama Radio
Patty Ryan – My Love, My Life
Alan Barry – Come On
Chester – Hold The Line
Cyber People – Polaris
Del Faro – Bandiera La Playa Del Sol
Mr Me – I-Go-Down
Ken – Laszlo Madame
Koto – Visitors
Joe – Yellow Wild Boy
Scotch – Penguin's Invasion