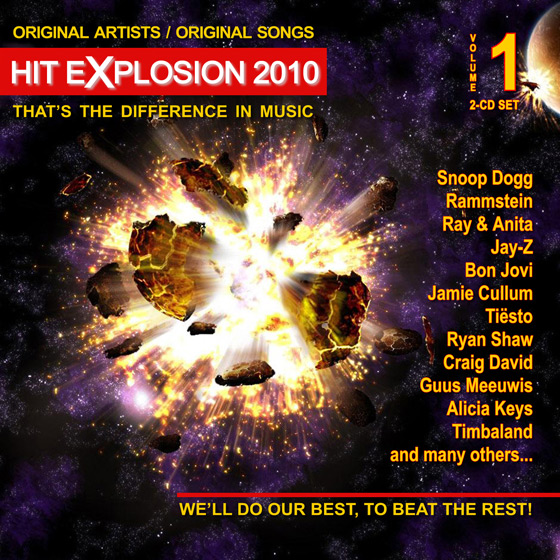 It's back. With smashing new covers that are suitable for work! 🙂 Hit eXplosion delivers all hits of Januari 2010 in a single package. Download sites are hard to find (can't host it myself due to its not my work, sorry) but can still pick it up from usenet. And even our usenet search engine has changed.
Previous releases can be found somewhere on this site…
Contents
Disc 1
Timbaland (feat. Justin Timberlake) – Carry Out
Ryan Shaw – It Gets Better
Craig David – One More Lie
Snoop Dogg – I Wanna Rock
Ray & Anita – In Da Name Of Love
Chris Brown – Crawl
Sade – Soldier Of Love
Black Eyed Peas – Rock That Body
Tiësto (feat. Nelly Furtado) – Who Wants To Be Alone
Alicia Keys – Try Sleeping With A Broken Heart
Rammstein – Ich Tu Dir Weh
Guus Meeuwis – Laat Mij In Die Waan
Jay-Z (feat. Mr. Hudson) – Forever Young
Diggy Dex – Vandaag
Bon Jovi – Superman Tonight
Rihanna – Hard
Wesley Klein – You Raise Me Up(Winnaar Popstars 2010)
James Morrison – Get To You
Journey – Don't Stop Believin'
New Kids – Groeten Uit Brabant! Kut!
Disc 2
Lasgo – Over You
Cascada – Dangerous
Dennis Ferrer – Hey Hey
Dio (feat. Reverse & Jayh) – Cool
The Ian Carey Project – Get Shakey
Alexandra Burke (feat. Flo Rida) – Bad Boys
David Guetta (feat. Kid Cudi) – Memories
Honorebel (feat. Pitbull) – Now You See It
Jurk! – Zou Zo Graag
Red Impulse – Ti Sento
Jamie Cullum – Don't Stop The Music
Tim Christensen – Superior
Keri Hilson (feat. Akon) – Change Me
Leona Lewis – I Got You
Acda en De Munnik – Eva
Cheryl Cole – Fight For This Love
Iyaz – Replay
Paramore – Brick By Boring Brick
Kelly Clarkson – Don't Let Me Stop You
Carolina Liar – I'm Not Over
Go Back To The Zoo – Electric
Destine – Spiders
Artwork
Artwork in the original download is of better quality. These images where reduced in size and quality to save space.

Total Playing Time…: 158:55 / Total Size………..: 378 MB
© 2010 Eazy Productions BV